Ben Faranda - Bringing your human to digital learning: design & delivery philosophies aligned to inclusion, engagement and the right impact.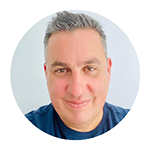 Why am I just not getting the 'feeling'?
I've heard many learning professionals express frustration and doubt about the effectiveness of virtual learning…from building genuine rapport is too hard and spot feedback is not an option. I'm happy to disrupt that thinking, I have significant design and delivery experience which challenge these notions. I can show you the shortcuts to fostering inclusion and learner confidence, whilst simultaneously reducing facilitator anxiety. Bring your human into digital learning and activate highly engaging and empathic experiences for all.
About Ben Faranda
Ben Faranda is an experienced face-to-face and online facilitator. He often works with some of the largest technology businesses in the world. Ben often works with Sprout Labs on online facilitation projects and virtual events.
You can purchase access to the recordings for only $120 AUD (approximately $85 USD and €70 EURO)