Dr Barbara Covarrubias Venegas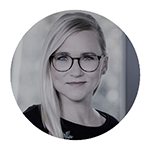 Organisations continue to transition learning and event operations to the virtual space, but often we do not consider inclusion as an element to be considered in our virtual activities. In this workshop we will explore elements of your digital body presence and how it influences the impact of your virtual event.
Overview about elements of inclusion that need to be considered to create a great experience for ALL your participants
Techniques of inclusive, virtual facilitation
Your own creative toolbox on how designing and facilitating virtual events creating an inclusive space for your participants.
About Dr Barbara Covarrubias Venegas
"Without inclusion there is no real impact in a virtual event" - Barbara Covarrubias
Venegas Barbara defines herself as a Virtual Enthusiast, researcher by education, speaker by passion and author by results. As a former researcher, she is passionate about New Ways of Working & Learning, Positive Leadership & CULTURE overall. Besides, she has been designing virtual and hybrid learning journeys for participants from across the globe in the past 10 years and runs her own virtual events production company #virtualspachero. www.barbaracv.com
You can purchase access to the recordings for only $120 AUD (approximately $85 USD and €70 EURO)