Michael Cook - The what, why and when of live online producers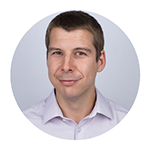 This year has highlighted that you really can go live online with your work, socialising and training. Whilst many more people have now experienced webinars and virtual classrooms, something that can separate the 'get-it-online-quick' sessions from the smooth professionalism of a great learning experience is the producer!
This session will look at what a webinar and virtual classroom producer does, how they can support the facilitator, whether they are new or experienced and what they offer to the attendees. This interactive session will have time for questions and for you to consider if and how this could work for you.
About Michael Cook
Michael's background as a practice manager in an accountancy firm, along with customer service and sales in organisations large and small, means that he's ideally placed to focus on the business of learning and development. At Lightbulb Moment he's the Business Operations Manager, where he helps teams to achieve live online learning confidence, and specialises in the production of webinars and virtual classrooms. Find out more about Mike and his work at www.lightbulbmoment.online and follow @MikeLightbulb on Twitter
We will cover:
The different types of producer for different types of session

How the producer can work efficiently with the facilitator

How this can apply to your organisation
You can purchase access to the recordings for only $120 AUD (approximately $85 USD and €70 EURO)