Totara Learn - Blended Learning Management System
Totara Learn is a leading edge enterprise Learning Management System. There are currently over 8.5 million users of Totara globally. Totara Learn is a powerful and flexible platform for managing learning and performance in your organisation. Totara Learn provides for the management of learning content, handling course registrations, administration, tracking and reporting.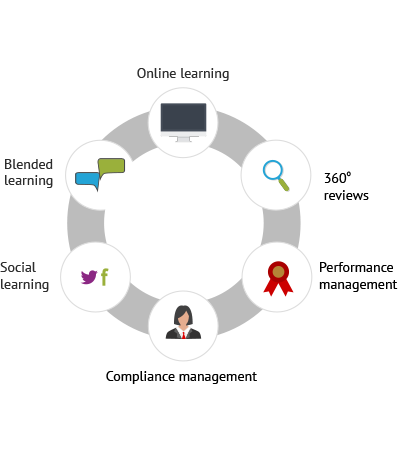 Learning
With Totara Learn you can load content that you create quickly and easily such as e-learning, SCORM packages, PDFs, videos and question banks.
There is a huge range of learning activities:
Individual assignments

Quizzes and tests

Discussions

File and document submissions

User surveys

Support for Glasshouse materials
Totara Learn has complex and sophisticated content management features that mean you are free to create content.
Totara Learn gives you the best of both worlds, a solution that covers both authoring and learning management, and allows you to use your favourite authoring tools.
Collaborative learning
Learning is about more than content, it's about learners working together and learning from each other. Some of the Totara Learn collaborative activities include:
Collaborative assignments
Blogs
Discussion boards
Wikis
Blended learning
Organisations use face to face learning as part of a blended learning approach. Totara allows you to easily combine face to face learning in courses and has sophisticated tools for managing sessions.
This includes:
Tracking and reporting on registrations and attendance

Managers approval

Publishing to calendars including outlook integration
Virtual classrooms are engaging and flexible and they add many of the face to face training session attributes to an online course. Totara Learn has plugins to support WebEx, GoToMeeting, Adobe Connect, Live Meeting.
Managing learning with Hierarchies
The hierarchies features in Totara Learn allows you to set up frameworks that represent the structure of your organisation.
This enables you to input the relationships of job positions and different sections of your organisation. Learning can then be mapped to individual job roles, management levels, departments, teams and groups.
Learning plans
Totara Learn learning plans allow you to link competencies and courses to positions in your organisations, eg a hospital could have all of it's clinical staff do one sequence of courses and the administration staff could be required to complete different sequence.
Create templates

Manage learning plans for current and aspirational positions

Set dates, priorities and objectives

Additional courses can be added by managers or requested by learners
Managing compliance
Employees can then re-do the programs or do a challenge assessment.
Set up sophisticated reporting

Track completed and started courses

Set reminders and expiry dates on certifications
Team management
Totaro's competencies and objectives features helps you to ensure individual development plans fit within the team's and organisational objectives.
One click access for team member's learning plans

Create, update, delete or approve learning plans

View high level data on courses, competencies and objectives of teams
Managing performance
Totara Learn is able to help you manage performance through reporting and facilitating on-going feedback. The forms and workflow is completely flexible.
360 degree feedback
Totara 360 degree feedback tool is flexible and allows both managers and peers to provide feedback. Managers can choose who can give feedback and learners are able to request feedback from certain individuals. The feedback can be given through multiple choice or written answers.Both managers and the learners can access returned feedback and track progress of requests and send reminders.
Competencies
With Totara managers are able to view teams and team members progress on started and completed courses and competences. You can easily plan individual and team development and ensure you get the most from your team by setting clear competencies and personal goals.
Badges
Totara allows you to gamify your courses and competencies by recognising and rewarding achievements with certifications and badges. Use badges to reinforce learning goals and to motivate and engage learners to continue along their learning plan.
Reporting
Totara reports gives you a complete picture of usage, progress and achievement of employees across your organisation.
Totara also includes a dashboards that provides you with quick views of key information.
Schedule reports

Customise reports

Pre-built reports for each system role

Add customised searches of data

Filter reports by organisation, user information or position
Hierarchical reporting
Totara hierarchies allows for reporting that reflects the structure of your organisation. This allows a team manager or area manager to see the performance of all the teams they management.
Custom reporting
With Totara you can use pre-built reports for system roles and customise your own reports. My dashboard allows the user to customise and set alerts and tasks and view statistics, news and events.
Responsive
Works on desktop computers mobiles, tablets and mobiles.
Control
Totara Learn administration interface is powerful and flexible. The administrator has full control of the environment.
Integration
Totara Learn integrates with every enterprise Single Sign On (SSO) including SAML, LDAP, NTLM, Shibboleth.
Totara learn supports major web-service protocols: REST, SOAP, XMLRPC, and JSON.
Totara Learn has simple sync feature that allows your organisation's hierarchy to be quickly loaded from your HR system.
Totara Learn is available through a global network of partners. Sprout Labs is an Australian partner.
Sprout Labs Totara Learn services include
Implementation planning that combine technical and learning strategies

Integration with other systems

Visual designing of themes

Secure Australian based cloud hosting

Sprout Labs will also support you to install Totara on your own servers

Configuration

Training

Ongoing Support
Contact us today talk about how Totara Learn can be used in your organisation.