Learning While Working Podcast - A podcast for learning and development (L&D) people.

Listen to the Learning While Working podcast to hear how learning and development is transforming. The episodes are interviews with leading thinkers in learning. Common themes on the podcast include trends in eLearning and digital learning, performance driven instructional and learning design and learning data. Each podcast is packed with ideas, tips and insights about how to make learning at work succeed.
Sign up for updates about the podcast
Learning while working podcast archive: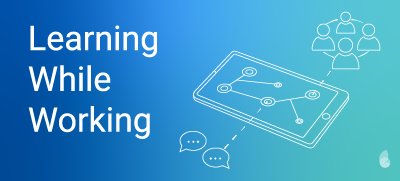 This is a podcast with Dan Mottau from RedBubble on Future ways of working. The COVID-19 pandemic has transformed the world and is transforming how we work and live. Remote working has transformed many workspaces and employee's lives and we are seeing the rise of hybrid workplaces. One of the key messages from this podcast is that hybrid workplaces are really about allowing people to work the way they want to and if organisations don't allow for that flexibility there are risks of losing employees.